Nigerian fintech unicorn Flutterwave is at the center of yet another financial scandal, and this time, it's dragging down digital asset traders in Africa's largest Bitcoin market according to coingeek.com
Flutterwave, a digital payments startup valued at $3 billion in its latest fundraising, was reportedly hacked recently for 2.9 billion nairas ($6.4 million). The hack was flagged by some of its users who received notifications of their accounts being emptied.
However, earlier this month, the company denied the hack. It claimed that during a routine check of its systems, it had identified "an unusual trend of transactions on some users' profiles." Its review found that only users who hadn't activated some of its recommended security settings had been susceptible.
"We want to confirm that no user lost any funds, and we take pride in the fact that our security measures were able to address the issue before any harm could be done to our users," the company claimed.
But local media has exposed the company, with dozens of its users proving they lost millions of naira to the hackers. One of the victims, Alex Onyia, revealed to one outlet that he lost over 8 million nairas ($17,400). A third attempted transaction failed as he didn't have enough left in his account.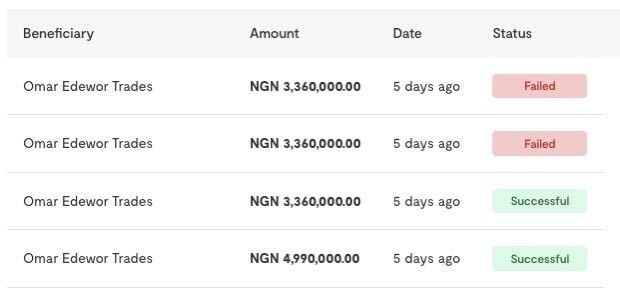 Additionally, local outlets have uncovered court filings by Flutterwave's lawyer seeking an order to freeze bank accounts belonging to the hackers and third-party recipients.
Flutterwave hack threatens digital currency traders
The hack, and its effects, are now being felt by the Nigerian digital asset community. Reports reveal that any bank account that transacted with the alleged hackers has been frozen. Many of them are digital asset traders.
Flutterwave's court order extended to direct recipients, second and third beneficiaries. It has led to the freezing of hundreds of bank accounts in 27 Nigerian banks and caused outrage in the crypto world.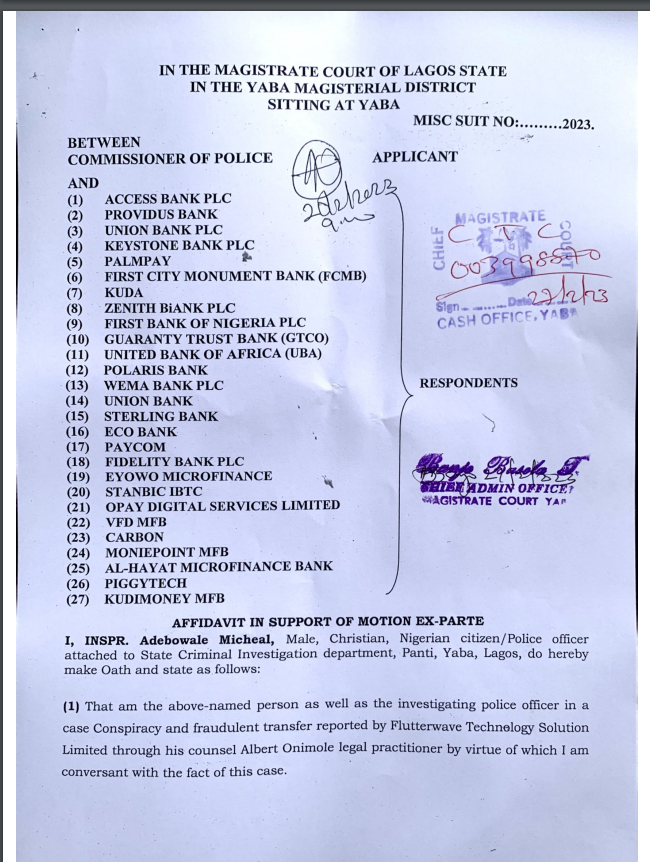 In one instance, what started as a routine USDT-naira trade has led to the freezing of multiple bank accounts for traders who claim they don't even use Flutterwave. Ajeka Iliasu Opaluwa, who runs a digital asset trading firm, told a local outlet that he sold USDT worth 1.6 billion nairas ($3.4 million) to a Chinese trading partner he has traded with for over five years.
Two days after the trade was settled, he received an email from his bank notifying him that his account had been frozen.
"Please let us know the source and purpose of the transaction and avail proof where applicable," he was told.
Other digital asset traders who have received money from Opaluwa also had their accounts frozen. Some of them have never used Flutterwave, and their plight has been worsened by a seeming collective hesitance by most Nigerian banks to resolve the issue.
The freezes had an unproportionate effect on digital asset traders since a significant amount of the stolen funds went to OTC trading desks. With the country's central bank being anti-crypto and barring banks from processing related payments, OTC desks have become more popular in the West African country.
Now, dozens of traders are concerned that the crackdown could be a big blow to the thriving digital asset industry. Nigeria is home to Africa's largest digital asset market, with one report claiming 20% of the nation's 213 million residents own a digital asset.
Flutterwave is no stranger to controversy. In 2022, regulators in some of the markets it operates in, including Kenya, accused it of offering its services without a license. The Kenyan central bank froze $50 million held by the startup in 62 bank accounts. It has since recovered the funds.