Despite significant volatility over its 13-year history, cryptocurrency has become a financial phenomenon—with the value of a single Bitcoin growing to an all-time high of more than $66,000 in October 2021. Cryptocurrency adoption continues to grow, despite its reputation for unpredictability.
It is increasingly common to see cryptocurrencies as an option to pay for goods and services—and yes, even charitable giving. But even as they become part of everyday transactions, many individuals, businesses, regulators and other institutions are on a learning curve as they try to keep up with the breakneck pace at which the landscape is shifting.
So, what do these trends mean for the charitable sector? And how are charitably inclined investors approaching crypto donations? Fidelity Charitable conducted a survey to address these questions. What we found shows significant knowledge gaps about charitable giving tax strategies as they relate to cryptocurrency.
Charting the cryptocurrency landscape
The popularity of cryptocurrency is on the rise, particularly among the philanthropic Millennial generation—and the trend could make serious waves in the charitable sector. 
Currently, 13 percent of investors hold cryptocurrency in their portfolios. Among the rest, 20 percent say they may consider investing in cryptocurrency in the next year.
But Millennials are much more likely to be actively involved and interested in cryptocurrency investing. Thirty-five percent of young investors say they own cryptocurrency—and among those who don't, half say they will consider investing in the next year.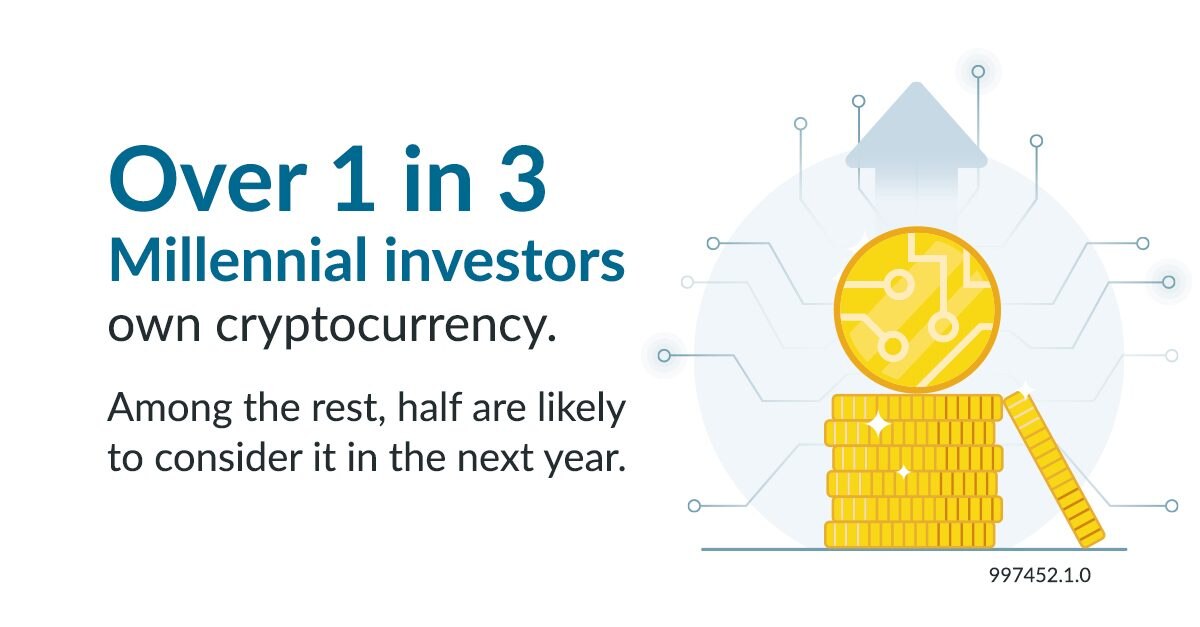 Further, while half of the general investor population believes that cryptocurrency is merely a fad, Millennials are far more convinced of the long-term prospects for digital assets. Nearly half (47 percent) of young investors believe cryptocurrency is a smart investment, while only a quarter believe it to be a fad.
Millennials are also a charitably inclined generation. Nearly nine in ten Millennials say charitable giving is an important part of their lives, compared to 74 percent of the total population. Similarly, three-quarters of Millennials consider themselves philanthropists, compared to only 45 percent of the total population.1 If Millennials combine their interest in digital currency with their charitable values, the nonprofit sector could experience a significant influx in digital asset donations.
Significant confusion exists around the tax implications of selling cryptocurrency—even among those who own these assets.
Investors are subject to capital gains tax upon the sale of long-term appreciated assets—including cryptocurrency. Among investors who own cryptocurrency, 38 percent are not aware that selling digital assets is a taxable event. And this number goes up to two-thirds when looking at the full population of investors. Many cryptocurrency investors experienced rapid growth in the value of their assets—and are now left with questions about what that appreciation means and what to do with their newfound wealth.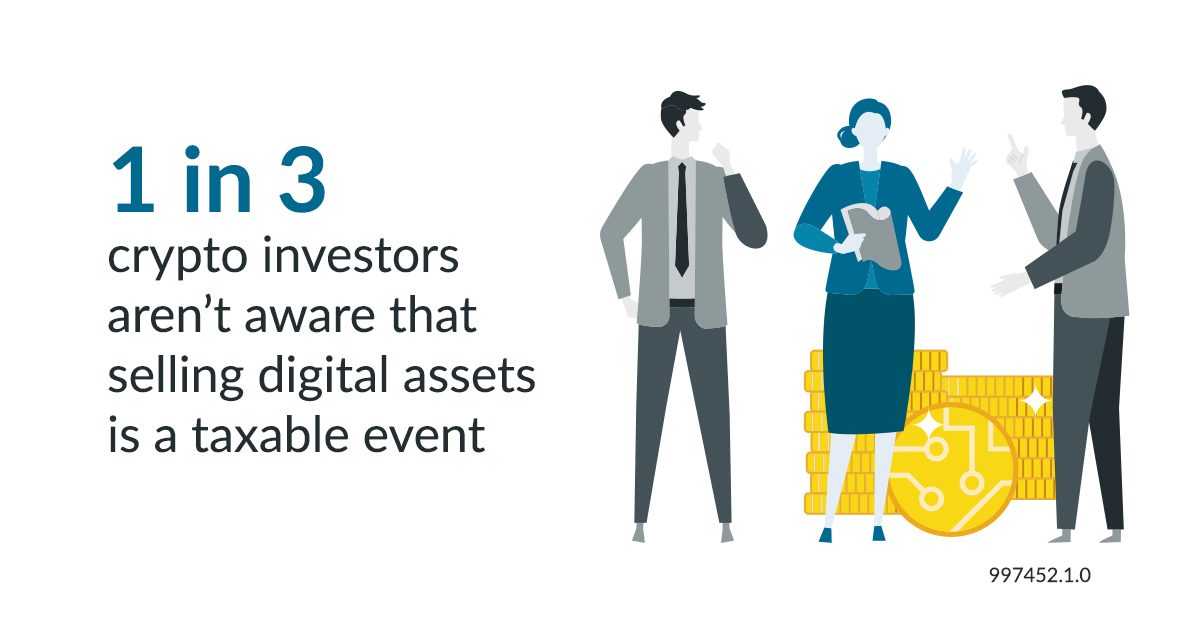 Funding charitable giving with cryptocurrency
Though cryptocurrency investors are disproportionately charitable, the tax-savvy strategy of donating digital assets to charity is not well-known.
Nearly half (45 percent) of cryptocurrency investors donated $1,000 or more to charity in 2020—compared to 33 percent of the general investor population.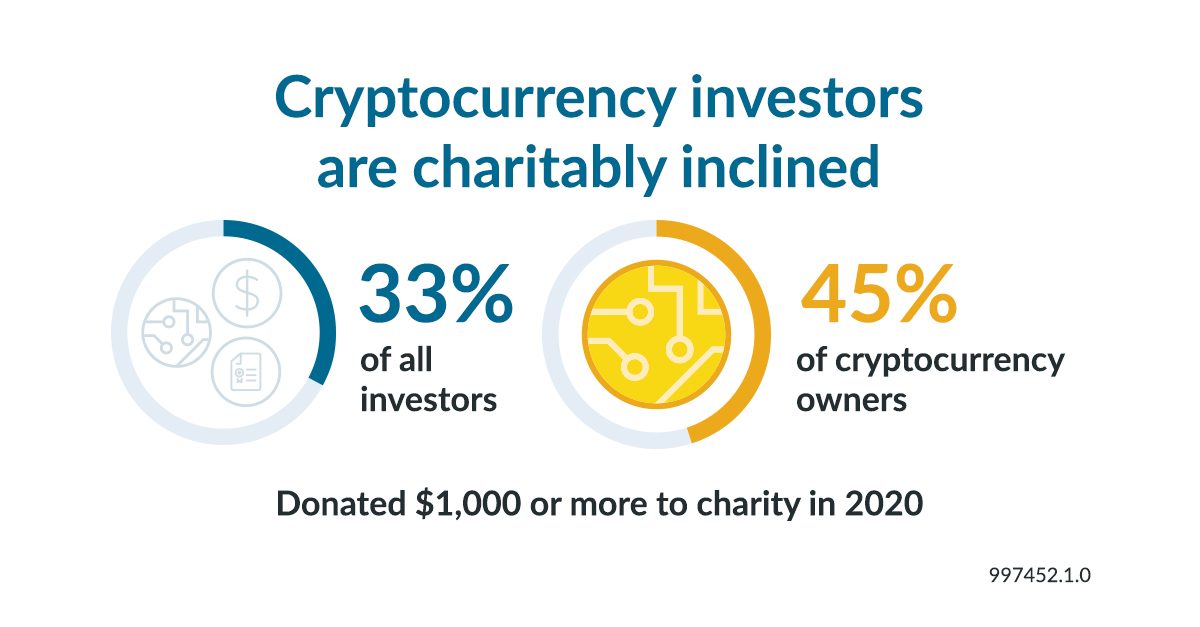 Despite their elevated charitable activity, more than half of cryptocurrency investors (55 percent) are not sure that cryptocurrency assets can be donated to charity—a tax-efficient strategy that can minimize capital gains tax owed on the sale of the property.
A third of cryptocurrency investors have donated some of their cryptocurrency to charity—and their motivations are both head-based and heart-based.
 Investors who have donated cryptocurrency to charity were driven both by the tax benefits of their donations and by a desire to do good. Two-thirds say they wanted to do something good with their cryptocurrency, while more than half say their assets had appreciated significantly (56 percent) or mention tax benefits (54 percent).
However, many cryptocurrency donors faced difficulties with the experience of donating their assets to charity. 
Investors say that making cryptocurrency donations can be a challenging process. Half of investors who donated digital assets say the charity required a larger amount than they wanted to give. Forty-six percent say that it was difficult to find charities that accept cryptocurrency, and 44 percent say that it was a cumbersome process.
Implications for the future
For current and prospective cryptocurrency investors
As cryptocurrency rises in popularity and continues to appreciate, investors will be left with an increasingly significant tax burden. Now is the time to reckon with the financial implications of their investments and to consider potential tax strategies.
Charitably inclined investors will have more options to minimize their tax burden through charitable giving as the process of making cryptocurrency transactions is further streamlined. Donors may turn to giving platforms and other programs at nonprofit organizations, such as donor-advised funds, which can simplify the transaction for both donors and charities by accepting the crypto assets, selling them, and then making the proceeds available for grant recommendations. These solutions could make the process of donating cryptocurrency to charity smoother and enable more organizations to benefit from the trend.
For financial advisors
As digital assets become more accessible, advisor help is needed to provide guidance and dispel myths related to the assets. And because cryptocurrency investors are often charitably minded, advisors should understand charitable tax strategies related to digital asset donations. Advisors should proactively initiate conversations around charitable planning so they can help clients identify the right asset to give at the right time to maximize their philanthropic impact and tax benefit.
This will only become more critical as advisors prepare for a massive intergenerational transfer of wealth. For Millennial clients—who are both disproportionately charitable and disproportionately active in cryptocurrency investing—being conversant in charitable strategies related to cryptocurrency is quickly becoming nonnegotiable.
For the nonprofit community
While the landscape could be challenging for the charitable sector to navigate, digital assets are poised to become a strong source of funding for the future. The sector faces a variety of challenges—including navigating volatility, simplifying the process to enable seamless donations, exchanging donations to traditional currency easily, ensuring security for both organizations and donors, and more. In the face of so many tough questions—and with the number of cryptocurrency investors still relatively low—it would be easy to defer on engaging with the trend.
However, organizations that embrace cryptocurrency and allow donors to contribute digital assets will be well-positioned for the future—particularly as crypto-savvy Millennials come to make up a more significant portion of the donor base. And in the long term, the benefits will multiply as the popularity and value of cryptocurrency continues to rise.